Because Everyone Likes Warm Buns!
Bleacher Buddie is a wind and water proof wearable blanket! Bleacher Buddie's PATENTED design wraps around, zippers up & tightens at the waist....enveloping you in total warmth!
We have a Bleacher Buddie for all activities!
Customize with your team logo!

Show your team support and also a great idea for a fundraiser!

HOCKEY

Being a Hockey Mom was one of my favourite things! The days fly by so quickly, may as well be warm! Can be Hockey/ Hockey Mom/ Hockey Nan/ Hockey Fan/ Hockey Grandma...your last name....anything you want!

FOOTBALL

Bleacher Buddie is perfect for the football fans....I think this is one of the coldest sport to watch! Personalize with Football/Football Mom/ Football Fan/Football Nan ...you get the picture!

SOCCER

This is available in Gold or White Logo! Soccer is also a cold weather sport....so Bleacher Buddie is a must!

GOALIE MOM

As a former goalie mom myself, I can let you know that we experience the game a whole lot different than the other moms! But we should still be warm :)
Not Just For Sports
Anytime you have to be outside in the cold, Bleacher Buddie is your bestie!

Around The Campfire

We all love sitting around the campfire and Bleacher Buddie keeps you warm and the mosquitoes won't bother you!

Great for the Wheelchair

There are lots of people out there keeping warm and dry in their wheelchair with their water and wind proof Bleacher Buddie....this smart retirement home made a special order with their logo!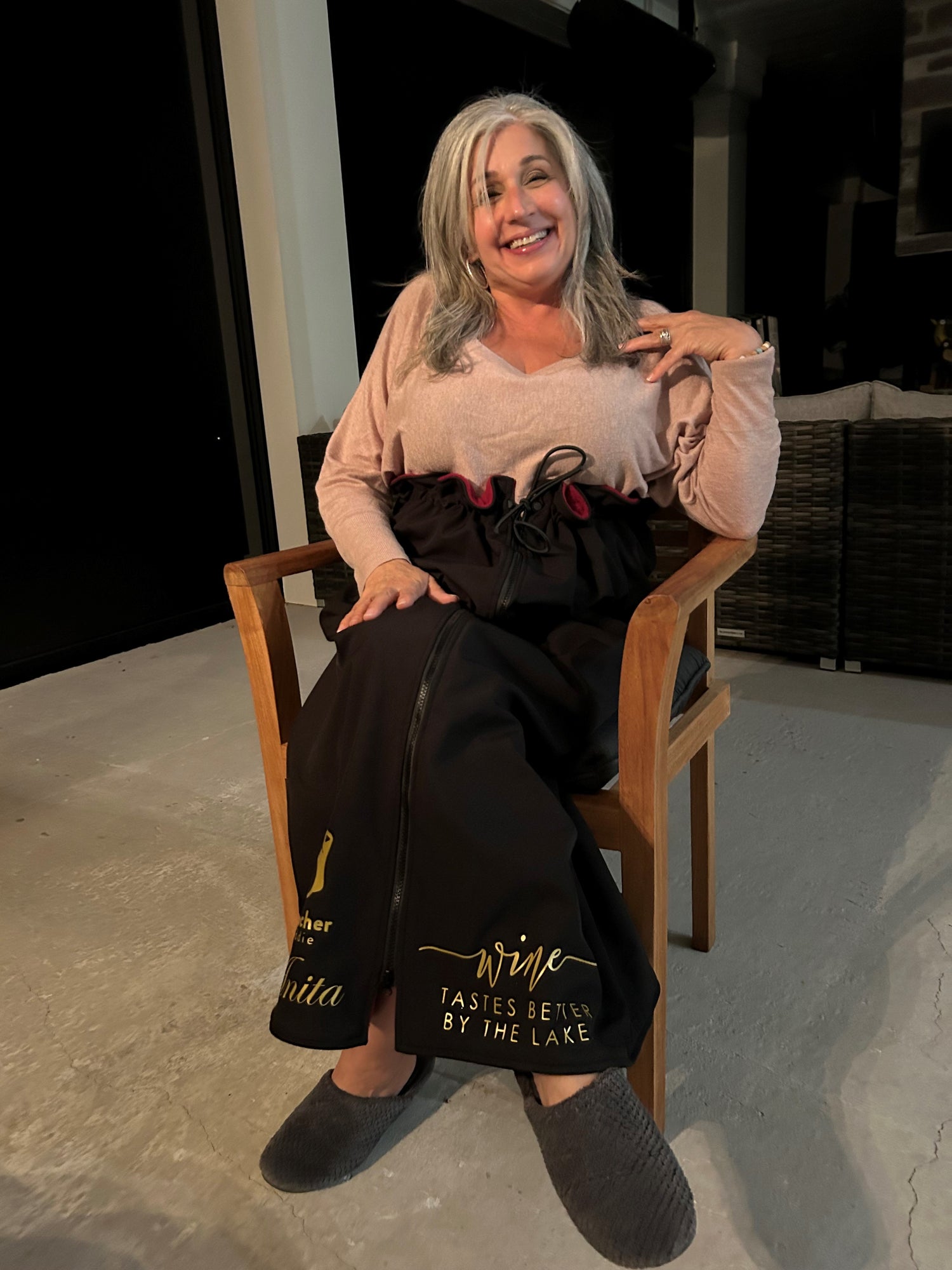 Wine Tastes Better By The Lake
Wine is good anywhere but it sure is nice to extend the life of your patio evenings with your crew! Not sure if you noticed, but this one is in Gold and personalized with her name!
**Also have the option for Coffee Tastes Better By The Lake**
Patented Wrap Around, Zipper up and Tighten Design